Creating The Outside Inn
During our previous travels around Southeast Asia and the world, we've stayed at lots of different places- hotels, guesthouses, hostels, service apartments, and everything in between. Some were amazing, and some…well, were not. We noticed that our favorite places tended to have many of the same things in common- beautiful and peaceful common areas so you don't need to be stuck in a room all day, authentic character and design that tells you something of the local culture, a diverse selection of food and drink on site, clean and nicely finished rooms with comfortable beds, and good, free wifi.  After returning home to Ubon after a few years abroad, we decided it was past time for Ubon to have a place like that, and the idea that would become The Outside Inn was born.
When designing The Inn, we started with those favorite things from above, and added others from the "wish list" we developed during our travels. A few examples:
• Discounted bike rentals. We offer discounted classic bicycle rentals to our guests so that you can explore the city and nearby villages on your schedule and at your own pace.
• Unlimited, free drinking water. Unlike virtually every place we've stayed in Thailand, we will never charge you for clean, purified drinking water. All guests receive a new factory sealed bottle of drinking water on arrival and you may help yourself to unlimited refills of chilled, purified drinking water. We do this for two reasons. First, it just seems absurd to make someone pay for safe water to drink. Second, by not selling single use water bottles we're able to keep thousands of plastic bottles out of the local waste stream.
• A place that's a part of the local culture, community, and economy. We work hard to make The Outside Inn an integral part of and contributor to the local community and economy. We buy our food and supplies from local producers. Some of our bedding is hand-stitched by a local women's group.  The bricks used to help create the garden were fired in earthen ovens in a village just two kilometers down the road. We believe operating in this way is not only good for our neighbors, but also for our guests, as it adds to the quality and authenticity of everything we do at The Outside Inn.
We have built The Outside Inn in the image of our dream place to stay.  Not only that, this is also where we live, where we spend almost all of our time, and where we plan to raise a family.  For all those reason. we work hard to make The Outside Inn a special, inviting place with character and atmosphere.  And we  will do all we can to ensure you have an amazing stay with us here in Ubon.
About Us
As owner, manager, and executive chef, she's not only the brains behind The Outside Inn, but its heart and soul as well. Tun grew up in Ubon and her family has been here for generations with strong ties to the local history. Her great-grandfather, Khun Korae, was the chief ("kamnan") of a large group of villages located near present day Ubon City. Tun has spent most of her life in Ubon and knows the area's best kept secrets and attractions. She has also spent some time away from Ubon where she gained valuable educational, professional, and life experience. Tun fell in love with languages while studying at university, majoring in English and minoring in Japanese. She is fluent in Thai, Lao, and English, proficient in Japanese, and even speaks a little Spanish. During college she spent her summers in the United States, working for a resort at the Grand Canyon and at a high-end, arts-centered summer camp in Upstate New York. In Thailand, Tun has worked as a Thai language instructor, English language instructor, and an interpreter for the US and Thai armed forces. She lived in the United States for four years where she started her own Thai catering business ("Tun's Thai Kitchen"), taught Thai cooking classes, worked as a private chef, and was a nanny for two amazing little girls. Tun is thrilled to be back home in Ubon and living her dream- to create a special place for travelers to stay, eat, drink, relax, and experience this special part of Thailand.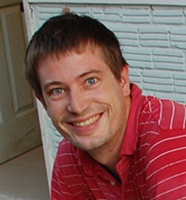 This is Brent, the lucky guy married to Tun. Brent grew up in a small town in the United States. Early in life he was instilled with a love of travel and a passion for volunteer work. Following college, Brent moved to Thailand in 2005 as a Peace Corps volunteer focusing on community development. For 2.5 years he lived and worked in a rural village in Northeast Thailand, partnering with local leaders on various projects in the areas of life skills education, small business development, and HIV/AIDS education and awareness. Brent learned the language and culture and fell in love with Thailand, its amazing food, and its generous people. Along the way he fell in love with Tun as well. Following the completion of his Peace Corps service, Brent spent 3 months traveling across the country on motorcycle, staying in guest houses and camping in national parks along the way- he's a great resource on travel in Thailand and around Southeast Asia. Brent then returned to the US and spent the next several years working with developers and investors to restore and revitalize historic buildings across America. Today, Brent is able to combine his passion for historic preservation, for living and traveling in Thailand, and for talking with interesting folks from around the world everyday at The Outside Inn.
And here's the guy who will most likely greet you when you arrive.  It's his dream job as he LOVES meeting new people. He'll probably jog up, tail wagging, holding a toy or ball in his mouth to show off to you.  He's friendly and loving with everyone, including kids of any age.
&nbsp