KITCHEN OPEN 7 DAYS A WEEK!
RESERVATIONS REQUIRED FOR GROUPS OF SIX PEOPLE OR MORE
Lunch Hours:  11:00 – 14:30       Dinner Hours:  17:00 – 21:00       Coffee/Drinks:  All Day
Homemade Mexican, American, & Thai · Authentic Cocktails · Great Atmosphere
The Outside Inn offers a variety of cuisine- made-from-scratch Mexican food, American food including our now-famous burgers, as well as Thai classics and Isaan specialties. Many of our items are offered in vegetarian and vegan versions as well. Our menu is varied and unique, and is constantly being updated and expanded to offer new tasty options for our repeat customers.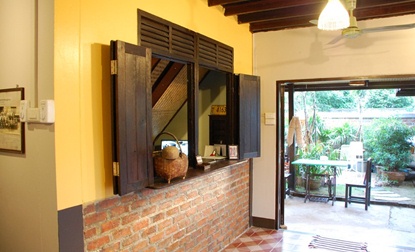 Food Offerings
A lot goes into making our food as tasty as it is. First off, we have an amazing chef! Tun grew up in Ubon, and has been cooking Thai and Lao food since the time she could stand. Most of our recipes have been in her family for generations, passed down to her over the years from her mother and grandmother.
Tun has also had the opportunity to travel and live in various places around the world. Along the way she has learned the intricacies of various cuisine including American, Italian, and Mexican. Tun's resume includes operating a Thai catering business in America (Tun's Thai Kitchen), leading Thai cooking classes, and working as a personal chef.
In addition to having a great chef, we use high quality, locally sourced, fresh ingredients in everything we offer. All of our ingredients are all natural, often organic (when available), and come from the surrounding area. Many of our fruits and vegetables come from our own gardens located in Ubon (at Grandma's house). Those that don't are supplied by local farmers and are bought just steps from our door at the nearby fresh market. Our meats are sourced and processed just outside of the city. Our brown eggs come from a farm in a nearby village. Our tortillas are made from scratch and hand pressed daily. Our salsa and sauces come not from a can but from fresh, hand sliced ingredients. It's commonsense that great food requires great ingredients, and we always use the very best.
Drink Offerings
We apply the same philosophy to our drinks- high quality ingredients expertly crafted using authentic recipes.  The Outside Inn has a full drink menu including fresh brewed coffee and espresso, teas, soft drinks, fruit juices, Thai and imported beers, wine by the glass, carafe, or bottle, and an extensive cocktail menu including Signature Cocktails that you'll only find at The Outside Inn. Most of our liqueurs we make ourselves from scratch, including our Outside Inn Amaretto (comparable to Disaronno), Outside Inn Coffee Liqueur (Kahlua), and Outside Inn Irish Creme (Bailey's). Our Standard Cocktails cost just 95 Baht and include classics like the Gin & Tonic, Screwdriver, Vodka Pineapple, Rum & Coke, Bailey's & Coffee, and Amaretto On The Rocks. Our exclusive Signature Cocktails are hand crafted using fresh local ingredients and generous portions of high-quality imported spirits. Examples include the sweet, smooth Bahama Mama, the ginger-infused Bangkok Buffalo, Lemongrass Drop, Tamarind Whiskey Sour, and our best seller, the Niyok Margarita.