The Heart of the Outside Inn
The Garden is the "Outside" in The Outside Inn.  It is the heart of the Inn and the place to relax, read, check email over our free wifi, meet fellow travelers and locals, have a drink, and grab a bite to eat.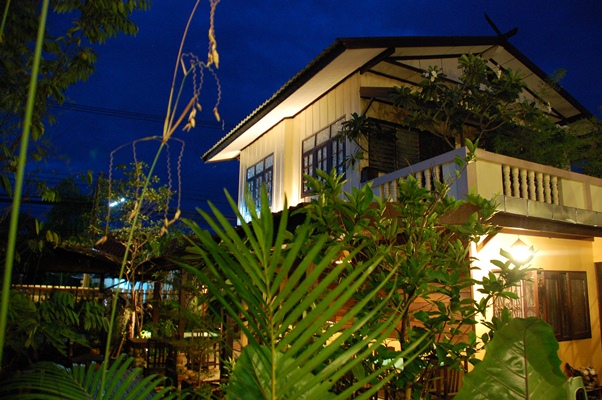 Have a look around the Garden.  Most of the items you see have a history and a story.  The bricks were handmade and fired just down the street from us in enormous, earthen ovens.  The wood siding on the wall was saved and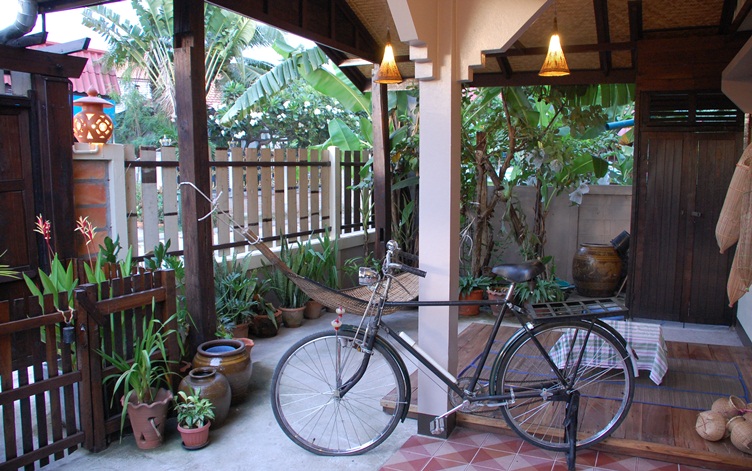 reused when a house in a nearby village was torn down to be replaced with a concrete box.  The fold-away doors leading to the reception area served as the front doors at a hardware store in Ubon for over 50 years.  Look closely and you can still see the holes from the staples that were once used to attach ads to the doors. Some of our tables are made from salvaged, old-fashioned Singer sewing machine bases and solid wood windows that were saved during the renovation of The Outside Inn.  Many of the plants and trees you see around the garden come from seeds or shoots of plants that have been growing at Grandma's house in Ubon for over 30 years.
As you can see, while The Outside Inn is relatively new, it's actually filled with and a part of Ubon's rich history.  We believe this is very important.  Not only does it help preserve a part of Ubon's past and share it with our guests, but it lends an authenticity and a character to The Outside Inn that we believe is missing in most city hotels and apartment style "mansions" in Ubon.